I LOVE birdcages.

Obviously cages of any type have a pejorative connotation, but I think there's something terribly beautiful about birdcages.
----------
I love Lilly Pulitzer's use of birdcages as clothing racks in her original boutiques.
It's such a whimsical, witty, and absolutely unique idea.
The Madison Avenue LP store has continued this tradition by hanging dresses inside a custom-made birdcage. The owl backpack perched atop the roof is the perfect finishing flourish!
The best yet is this season's "Out to Lunch" print. I can't wait to see what delightful designs come in this FANTASTIC fabric. The Chinese chop "Lilly" emblem makes this the perfect print for half-Chinese me. LOVE IT!
----------
We can credit the atelier of Yves Saint Laurent with elevating the birdcage to an art form this spring (and, perhaps, with combining a fetish or two...).
I cannot express how I have LUSTED after these shoes.

(courtesy Style.com)
Given
Manolo Blahnik's
pre-Fall boot, I think this trend is here to stay.
----------
And speaking of "fetish," Dita von Teese has a birdcage routine in her repertoire that must be positively enchanting, no matter your thoughts on burlesque.
----------
I like birdcages so much that when, last Autumn, I heard a restaurant was opening with a "birdcage large enough to seat four," I quickly dragged of 7 my friends to the West Village for dinner at
Sweetiepie
. Thanks to my smooth-talking boyfriend, we were able to perch in the sweet spot.
----------
Of course, there are some not-so-literal ways to incorporate birdcages into your interior.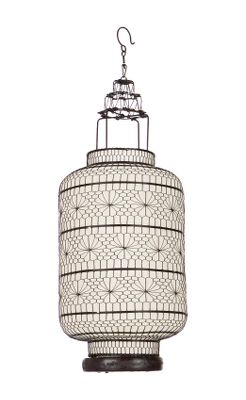 Single Stone Studios Etsy shop's birdcage decals for your wall. // Anthropologie lamp.

Sweet Tweets, my chickadees.
Cxx.